Mariano Conti: ETH is not only money
and why there's no reason for disillusion

Hello DeFiers,

Our guest today is the head of smart contracts at the Maker Foundation and a great optimist, especially when it comes to Ethereum, but not free of concerns: Mariano Conti with an interesting sentiment on Ethereum and DeFi. 
Welcome to #4 of My Two Gwei by dex.blue. Enjoy the read! 

A chat with Mariano Conti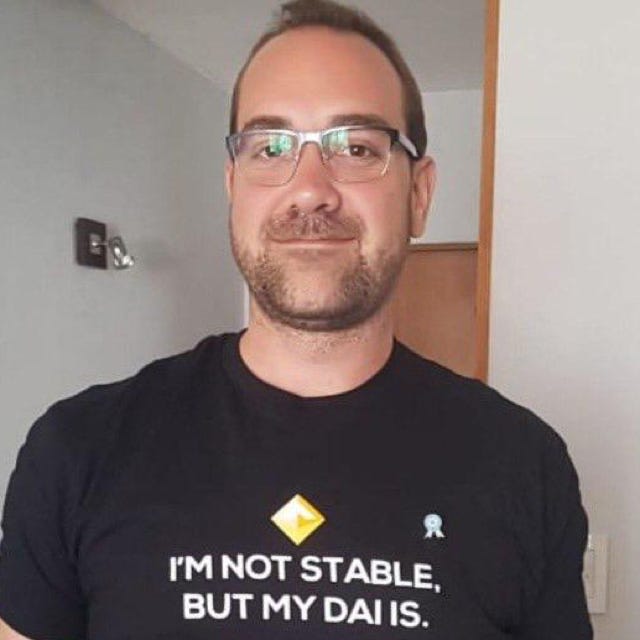 Hi Mariano, can you quickly introduce yourself and tell us how you originally got into crypto?
I work as the head of smart contracts at the Maker Foundation and I have been here for over three years now. When I joined there was no Sai, no Dai and the Maker market that became Oasis was just getting started. And actually, I got my job by random luck:
Back in 2014 I was working for a company that paid me in US dollars, but due to capital controls, this wasn't possible without having a bank account in the US, which I didn't. My boss then eventually asked if he could pay me in Bitcoin, I researched it and said yes. So, I was paid in Bitcoin first and later in Ether. "Ethereum is going to change the world", we thought, and we wanted to find work in this area - that's how we discovered Maker. I joined the project not really knowing Solidity, but I slowly learned and realized I was in a very good project.
You just mentioned your own "use case" of Ethereum, which you also had a great speech about at Devcon.  Now there is this whole "ETH is money" idea trending on crypto Twitter. Can you explain to us what's behind this in your opinion?
I've seen this a lot on Twitter, and I agree with it. But what a lot of people fixate on with "ETH is money", is that ETH is only money, which it's not!
I think the best way to understand this is an essay by David Hoffman: "Ether is a triple point asset". Sure, money is one of the properties of ETH and I believe this because I've experienced this myself: I've been paid in ETH and I used ETH to pay for things.
My addendum, however, is that Dai is better money because it's really just a stable representation of ETH. A lot of people don't even want to spend their Ether because they believe the price will go up. And the other thing is anything can be money to a certain degree: Argentinian Pesos is money in my country, but it is not money almost anywhere else – even here there are places that won't accept it – so to anything there are degrees!
As someone who has practically used ETH and Dai as money, what do you see as the biggest roadblock currently?
I have been paid in crypto since forever and Dai right now is incredibly liquid in Argentina, but it's not like I can go anywhere and pay directly with it. So, what I do is one or two offramps a month, to pay my rent, buy groceries and so on.
I don't yet strive for daily usage, the goal for me are really cheap onramps, so people can put their pesos into Dai and maybe even earn a savings rate.
So, even though I hope crypto-point-of-sales are going to be everywhere in the future, right now, the most important thing is fast and cheap on- and offramps.
We come from a background of trading, so we have a certain idea of what it means. For you, however, this is probably a whole different story…  I know you said you put all your money into ETH, is that the whole strategy?
Yes, my strategy is pretty much just to put everything I'm not spending into Ether. Because I think I'm in touch with the ecosystem and I believe we are building something great!
Also, when I tried to trade in the past, I've lost money most of the time: When I say I'm going to buy the price goes down, when I say I'm going to sell it goes up. So, I just never sell. I just buy a little every day and hope I don't have to sell anytime soon.
This is a very different attitude to the sentiment many people in the space have right now. What is something you would say to less optimistic people?
I've been more and more on Twitter lately and I do see a lot of cynicism. Even from people that are in the ecosystem themselves. I don't know if it's because of a two-year bear market, but I do know some people are disillusioned and disappointed.
Maybe its because I'm an optimist, but I see Ethereum 2.0 and I just believe DeFi is going to explode in 2020! So, I feel like there is a disconnect between the sentiment of some people and what I think is actually going on. Then again, it's all about the perspective.
It's been one of the big themes in 2019 and you said you see great potential for it, so is there a wish you have for DeFi 2020? Something in particular that you're looking forward to?
I think DeFi in 2020 is going to be super exciting! You know, once or twice a week somebody comes up to me and shows me a new project they've been working on and I just hope their usage explodes!
But I do fear we might be creating a second economic bubble sometimes with synthetics and derivatives or risking tokens over your positions. I am not an economist, but I think we really need to be careful with this.
Generally, I think 2020 is going to be bright- It feels so inclusive because it allows so many people from so many different places to participate in our economy and we have to let this happen even more by building UIs as simple as we can and hopefully not having to do what Uniswap did when blocking users from certain countries – even though you can of course never stop the protocol, this is still a concern! 
---
What do you guys think about the discussed topics? Tweet us 

@dexdotblue

 and let's talk!





Liked this interview? Subscribe below for bi-weekly content from My Two Gwei!