Discover more from My Two Gwei
Introducing My Two Gwei, a bi-weekly interview format powered by dex.blue, discussing on-chain trading and getting the community involved. Let the pros share their experience and knowledge and let the beginners ask and learn.
Obsolete economics lectures, crypto in the East and the CMC acquisition
A chat with Bobby Ong, co-founder of CoinGecko

Hello DeFiers,

We are kickstarting your crypto week with a great chat with Bobby Ong, co-founder and COO of CoinGecko as we dig deeper into his crypto origin story, why Asian communities are different from western crypto communities and his take on the CoinMarketCap acquisition.

Enjoy the 10th edition of My Two Gwei by dex.blue, hope you will stay with us for many more editions to come!
A Chat with Bobby Ong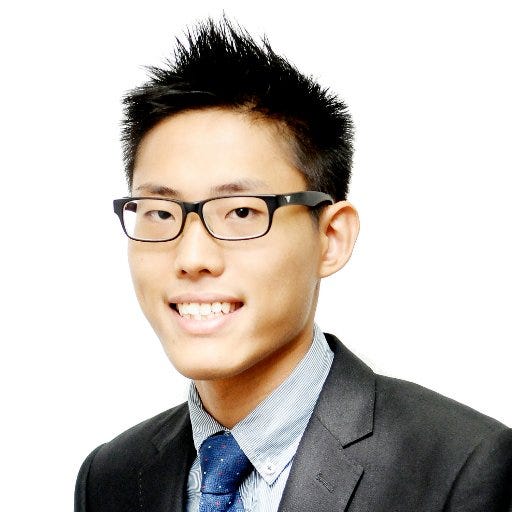 Hey Bobby - pleasure to have you on My Two Gwei! So tell us, how did you fall into the crypto rabbit hole?
In 2013, during my final year of Economics at University College London, I was teaching myself how to code so I was spending quite some time on programmers forums like HackerNews. There I saw a bunch of articles about this magic internet money, Bitcoin. Why were Silicon Valley VCs and tech entrepreneurs praising this new form of money while no professor in my university ever even mentioned Bitcoin?  
Well there are only two possible options: either the lecturers were obsolete or those tech people were crazy.
To better understand, I began doing my own research. I started reading the Bitcoin whitepaper and ended up buying some small amount of bitcoin from a random stranger on LocalBitcoins. When I got  full custody of my first bitcoin I realised this was a revolutionary technology, truly censorship resistant and permissionless. Shortly after, I found the world of altcoins and what really blew my mind was reading the white paper of Bitshares: it went beyond just payments and outlined the vision of a smart contract driven crypto world which is now coming to life thanks to Ethereum.  
So how did this early passion for crypto develop into launching CoinGecko?
As I was trading altcoins, I was always looking for more data on each coin. Bitcointalk was full of people discussing not only price data but development and social activity for each project. However most crypto websites offered limited data and had terrible design and usability. That's when I realised that there had to be a better way to aggregate, quantify and display all available data on the various coins. Thus CoinGecko was born.
Now CoinGecko is one of the main points of references of crypto asset data for many communities around the world. From this vantage point, how is the crypto community evolving?
Differently from the past, crypto communities are becoming more local than many imagine. While the US and Europe exhibit similar patterns, Asia is more fragmented. For example, Japanese users given local regulations, can only trade about 20 coins on their local exchanges. Koreans enjoy a more laissez faire coin availability but they do care in particular about some very local projects. China is a whole different ball game, they operate in their own silo and ecosystem: anything that happens in the West, they have their own versions. 
Interesting! And is there any fundamental, ideological difference between the Western and Eastern crypto communities?
Generally speaking, the Asia crypto community is very mining and trading focused, while the West is more product and tech oriented. In the US and Europe, the ideological and decentralisation drive is stronger. In the Asian crypto communities, it is often more about making money. This can probably be traced back to China being a mining powerhouse since the beginning and the trend is not stopping. If Bitmain IPOs in 2020, we'll see a rise of a Chinese Paypal-mafia style investments across the ecosystem from newly-rich employees as Bitmain shares are mostly held by employees, founders and not VCs.
And what is Ethereum standing in China?
Ethereum did a tremendous job in marketing in China. One of the main reasons for Ethereum's success in breaking into the Chinese community is thanks to Bo Shen from Fenbushi Capital. He used to be very involved in the Bitshares community and then shifted his focus to Ethereum. In the early days of Ethereum, together with Vitalik and the Ethereum Foundation, Bo Shen successfully managed to spread the ideas and ambition of Ethereum across China.
The other Western projects that managed to gain mindshare in China are probably EOS and more recently Polkadot.
Recently Binance announced its acquisition of CoinMarketCap, this is shining a light on crypto data websites and the role they play in our community.  
$400 million is a big sum. It's one of the largest M&A in crypto so far and matches the Poloniex acquisition. It clearly highlights the strategic position of crypto data aggregators. After this acquisition, I think it will be hard for CoinMarketCap to stay neutral and independent so we are now the largest, independent crypto data aggregator on the market.
We believe very strongly in upholding data integrity. It was always important for us - it became even more evident last year as many new exchanges were faking their volume. We knew we had to do something about it and that's how we developed the "Trust Score", now live on CoinGecko. It gives you a better idea if the volume being reported is realistic or not. But yes, after the news I started receiving many more "let's chat" meetings.
So what are you excited about for 2020?
There are two main trends that I am looking at: derivatives market and DeFi. After futures, options will be the new battleground for derivatives exchanges. We were the first data aggregator to track derivatives exchanges. Options will present a whole new set of data to track and display which we will tackle at CoinGecko.
Similarly, the rise of DeFi is also creating a new set of very interesting data that users want to know about. Currently, we track the interest rates offered by both decentralised and centralised lending protocols but as DeFi evolves, we expect it to replicate products from the traditional financial world which means more and more data.
With CoinGecko, we recently published a 200+ page book on DeFi, analysing different projects, how to use them, and guiding first time users into understanding DeFi. We published this book because we are fans - however one question remains open: how long will it take for DeFi to go mainstream?
---
Make sure to follow us on Twitter - there is lots to come 💙